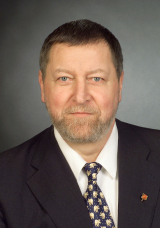 Günter Pilz
If not one of the grandpappies of Near-ring theory, then Günter Pilz is most assuredly one of the busiest disciples, having written the first book dealing with the subject: G. Pilz, Near-rings. There are lecture notes for many of the lectures Günter Pilz has taught at Johannes Kepler University Linz. Some of them were published, such as "Algebra. Ein Reiseführer durch die schönsten Gebiete" (Rudolf Trauner Verlag, Linz, 1984). This book gives an introduction into the theory of groups, rings, near-rings, representation theory of groups, and universal algebra. It is the basis for the courses in abstract algebra of our department.

Many applications of algebra have been described in R. Lidl's and G. Pilz's book Applied Abstract Algebra published by Springer. It contains an introduction to lattices, switching curcuits, finite fields, coding theory, cryptology, Polya theory, automata, and system theory.

Prof. Kaiser of the Technical University Vienna has said "There are three P's that belong together: Pilz, Polynomials, and Punschkrapferl."

Günter Pilz can be reached by email.
---
Maintained by Erhard Aichinger. Last updated 02 March 2000.
Back to the Applied Abstract Algebra Group homepage.